Welcome to the New Life Baptist Church website!
We hope that you will come visit us in person.
Carl, Jaelynn, Emma, & Elijah Strosnider
Pastor & Family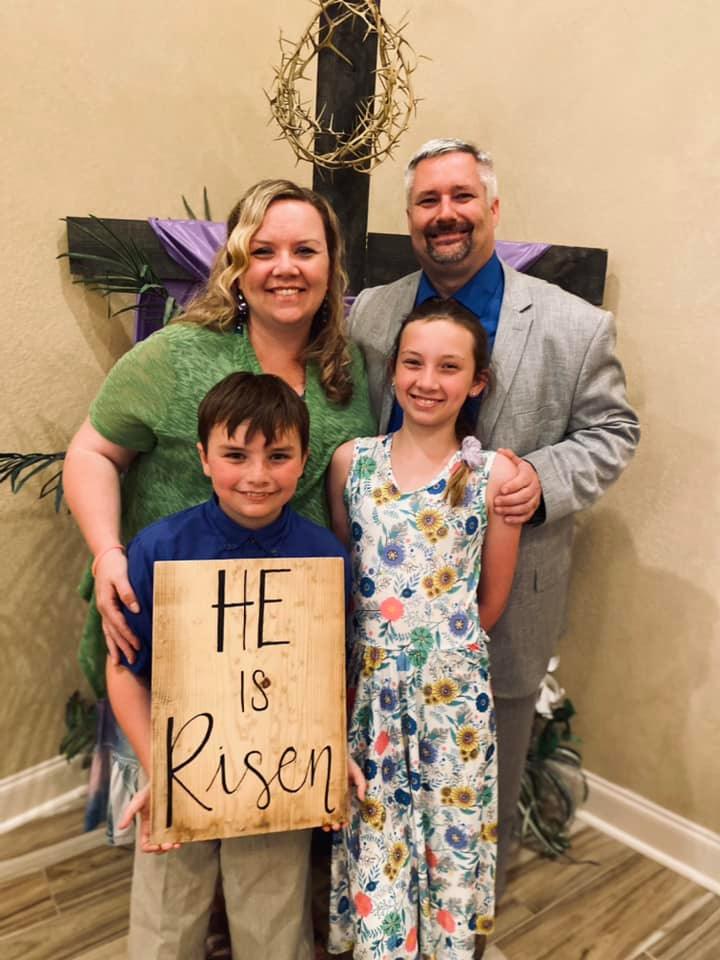 Carl grew up just outside of Saint Louis, Missouri. He was saved in Bible College at Tri State Baptist College on September 20, 2000. Jaelynn grew up in Gonzales, Louisiana and was saved at St. Amant Baptist Church in June of 1991. They met at Tri State Baptist College and were married in 2003. Together they served in multiple areas of the ministry until 2006 when they started "OTHERS" Ministry. OTHERS Ministry was instituted to help struggling churches as well as aid in church plants. Throughout their ministry, they have served in every area of the church with the exception of Senior Pastor. They have two beautiful children, Emma Grace and Elijah. Jaelynn homeschools the children as well as runs her own piano studio. Carl is bi-vocational as well. They look forward to continue serving as Pastor of New Life Baptist Church for many years to come!
Dakota, Krista, Gabriel, Johnny, & David Henderson
Youth/Asst. Pastor & Family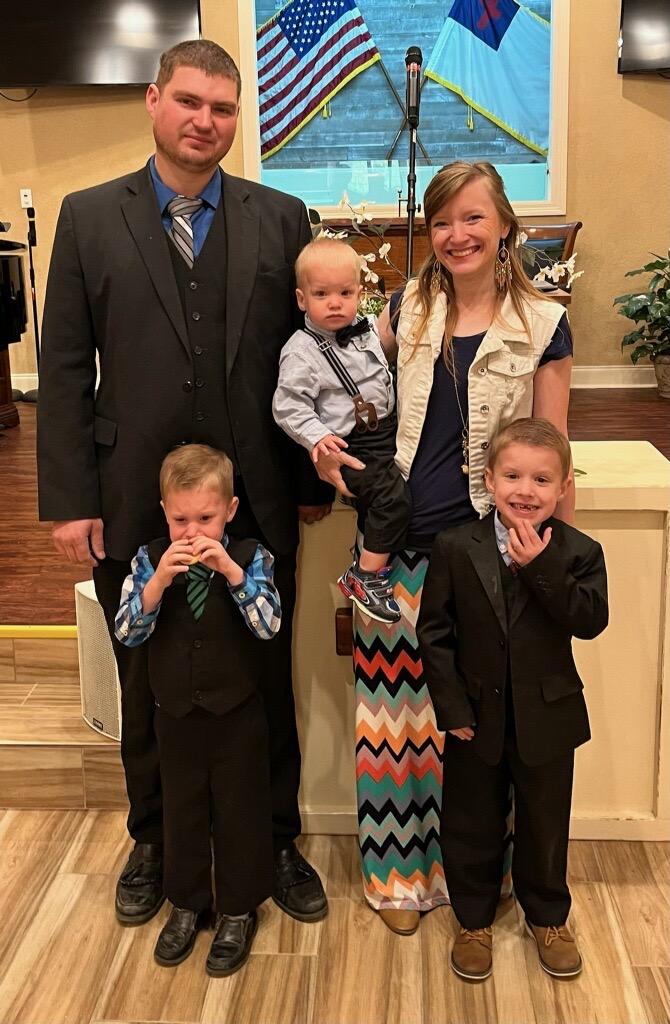 Dakota grew up in Redfield, Kansas where he was saved at the age of seven. Krista was saved at the age of twelve in Catawissa, Missouri where she was raised. They met through Blessed Hope Baptist College and were married in December of 2015. They have worked together in multiple ages of ministry within their church as the Lord led them. Their focus has been with the young adults of the church and community, while also being of service wherever the need might arise. The Lord led them to New Life Baptist church through a request by Pastor Carl and Jaelynn Strosnider and much prayer and counsel. It is their desire to minister to the community here with a focus on teens, and they are excited to begin!
Our Purpose
The purpose of the church is summed up in the commission Christ gave His disciples just before He ascended to Heaven: "And Jesus came and spake unto them, saying, All power is given unto me in heaven and in earth. Go ye therefore, and teach all nations, baptizing them in the name of the Father, and of the Son, and of the Holy Ghost: Teaching them to observe all things whatsoever I have commanded you: and, lo, I am with you always, even unto the end of the world. Amen" (Matthew 28:18–20).
Love God
Loving God begins in the heart, with a personal relationship with Him. As we gather and participate in Christ-honoring worship services and respond to the preaching of God's Word, this love flourishes. Mark 12:30 says, "And thou shalt love the Lord thy God with all thy heart, and with all thy soul, and with all thy mind, and with all thy strength: this is the first commandment."
Love People
We are all broken people with scars and baggage; but God still has a place for each of us to belong, and that place is New Life Baptist Church. We serve others as we find a place of ministry in the local body. We also serve by sharing the Gospel with those who need the Lord—through witnessing to friends, coworkers, neighbors, and loved ones, as well as in participating in church outreach and giving to missions.
Make Disciples
As we, through Gods divine work, find victory in our lives; we share this others. Helping them pick up the broken pieces like Jesus helps up pick up ours. Teaching others to serve and give ourselves to God. We grow together, in Christ, through the study of God's Word. This occurs in our weekly services, in our fellowships, and in one-on-one discipleship.
One day we are all going to stand before a Holy God to give an account.
Revelation 20:12 And I saw the dead, small and great, stand before God; and the books were opened: and another book was opened, which is the book of life: and the dead were judged out of those things which were written in the books, according to their works.
When we stand there is Jesus going to know you?
Matthew 7:21-23 Not every one that saith unto me, Lord, Lord, shall enter into the kingdom of heaven; but he that doeth the will of my Father which is in heaven. (22) Many will say to me in that day, Lord, Lord, have we not prophesied in thy name? and in thy name have cast out devils? and in thy name done many wonderful works? (23) And then will I profess unto them, I never knew you: depart from me, ye that work iniquity.
If you are not 100% sure that you are on your way to heaven, you can get that settled now.
We all make mistakes. Romans 3:23 For all have sinned, and come short of the glory of God;
Mistakes hurt. Romans 6:23 For the wages of sin is death; but the gift of God is eternal life through Jesus Christ our Lord.
Mistakes cost. Romans 5:12 Wherefore, as by one man sin entered into the world, and death by sin; and so death passed upon all men, for that all have sinned:
Jesus paid the debt for our mistakes. Romans 5:8 But God commendeth his love toward us, in that, while we were yet sinners, Christ died for us.
God wants us with all our mistakes. Romans 10:9-10 That if thou shalt confess with thy mouth the Lord Jesus, and shalt believe in thine heart that God hath raised him from the dead, thou shalt be saved. (10) For with the heart man believeth unto righteousness; and with the mouth confession is made unto salvation.
All we have to do is ask and accept. Romans 10:13 For whosoever shall call upon the name of the Lord shall be saved.
Telephone: (985) 370-7877
Service Times:
Sunday Morning @ 11AM (Preaching and Children's Church)
Sunday Evening @ 5PM (Preaching and Teen Church)
Wednesday Evening @ 7PM (Bible Study and Prayer Meeting)

Nursery available at each service.
Last Sunday Of Every Month (Dinner on the grounds immediately following the 11AM service with a 1PM after noon service / No 5PM service)
Address:
15499 Wadesboro Road
Ponchatoula, LA 70454